PTFE Sampling Bag - 1L with Polypropylene fitting
PTFE Sampling Bag - 1L with Polypropylene fitting
---
2 mil High-Density PTFE bag with Polypropylene Fitting.

Scentroid Is the only manufacturer offering PTFE sampling bags. These bags offer a much higher resistance to contamination and Scentroid's PTFE Sampling Bags have a longer holding time than Tedlar bags. They are also the only accepted bag material for all standards.

PTFE Sampling bags are extremely resistant to contamination and therefore can be easily cleaned and reused. They have been approved by the Ministry of the Environment in Ontario and almost every other jurisdiction around the world!

---
30-day money-back guarantee
Free Shipping in U.S.
Buy now, get in 2 days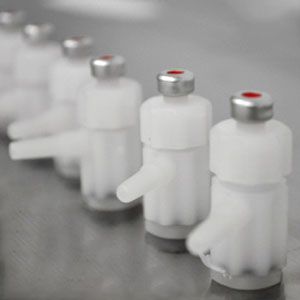 Polypropylene fitting


Features an On/Off valve function with replaceable septum in a single unit.  Quick, easy opening and closing of valve.

Less than one half turn opens/closes the valve.

These fittings fit 4/1" & 6 mm tubing.

PTFE Sampling Bag Features
The Perfect Bag for All of Your Sampling Needs!
PTFE Density
PTFE density of 2.2 g per cubic centimetre is twice as high as Tedlar allowing for much longer sample preservation.
Stable and Reliable
Excellent stability for products such as petrochemical process benzene, VOCs, CO2, CO, CH4, and sulphur compounds including Hydrogen sulphide. Rated at very low sample absorption. 
Odour Free and UV Safe!
Zero background odour allows for ambient sampling. UV protection helps preserve samples during transportation.




Great Value
Each bag is easy to clean and reusable - typical lifespan is 30 samples. 
Wide Range of Applications
Great for samples that have a low odour threshold as it will not contaminate the sample or samples that have high humidity. Bags available for EPA TCLP methods.
Not Recommended for:
Samples that are processed 30+ hours after collection.